News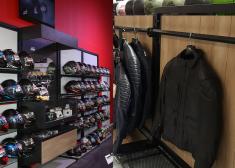 DAFY: A NEW CONCEPT MADE IN CVS
DAFY has deployed new furnishings since the beginning of the year.
Goodbye to the red furniture!
This new concept rides the vintage trend and the industrial style.
It's a 100% CVS AGENCEMENT idea: from design to manufacture.
It was conceived by the creative teams and realized by the prodution site.
We can already view it in french cities as FREJUS, MONTELIMAR or SAINT ETIENNE.
LE SITE CVS EN VERSION ANGLAISE.
Depuis peu, le site CVS existe en version anglaise por tous nos clients ou visiteurs étrangers.
CVS AGENCEMENT sera donc visible dans le monde entier.
C'était bien sûr indispensable pour espérer se développer davantage à l'international.
Alors, see you soon on our new website!